Invisalign Orthodontics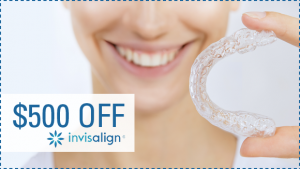 Whether you a teen (or parent of a teen) or an adult, the decision to straighten your teeth is a big one that will have long lasting effect on both your appearance and your confidence. Invisalign offers a leading-edge approach to treatment that will have minimal interference on your lifestyle; but a significant and positive impact on how you look and feel about yourself.
According to the American Dental Association, straightening your teeth can have a significant impact on your overall health. Invisalign aligners make daily oral hygiene easier and can also help to eliminate problems associated speech and chewing problems, jaw pain, and increased wear on tooth enamel.
Invisalign offers:
Plastic aligners that are customized and molded to your mouth and treatment plan, proving comfort and little irritation to cheeks and gums.
Smooth and comfortable aligners that are easily removed for cleaning, brushing and flossing. Special occasion coming up? No problem - aligners can be temporarily removed. But of course most people will not even know that you are wearing them.
Ability for patients to eat whatever they want .With Invisalign, you can you still chew gum and other foods that are frequently prohibited with traditional braces.
Convenience for your busy lifestyle and schedule. There are fewer visits required for check-ups and adjustments – Dr. Emma will create a follow-up plan with you.
What type of bite problems does Invisalign correct?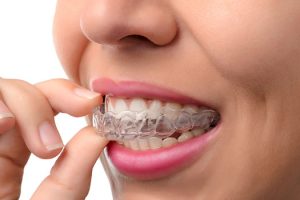 Invisalign corrects the same dental problems as traditional braces; the only difference is that Invisalign is almost invisible to the naked eye. The length of your treatment will of course depend on the severity of your case. Dr. Emma will review your individual situation and talk with you about your treatment plan.
Invisalign has been clinically proven and successful in treating:
Overcrowding – When there is too little space for the teeth to align normally.
Large gaps between teeth – This may occur because teeth are missing or because the jaw has abnormal growth.
Cross bite – This common dental problem occurs when one or more of the upper teeth bite inside the lower jaw.
Under bite – This condition is the opposite of overbite; lower teeth project further than or completely over the upper teeth.
Treating jaw pain and TMJ that are the possible result of overcrowding, cross and under bite.
Talk with Dr. Emma about how Invisalign aligners can help create a more confident smile and a healthier you!